He recibido miles de millones de mails diciendo que debería dejar de escribir sobre

Alex Turner

...bueeeeeno, tal vez

NO

sean

miles de millones

pero sí unos cuantos, citaré uno de los más poéticos escrito por un neoyorkino varil a quien llamaré

Bruce

...
"Estoy harto de Turner, en serio! Digo, está bien que hables de él si es tu músico favorito pero no más, por favor! Vas a volverme gay si siguies hablando de su cabello y de cuánto lo amas así que detente!"
...en realidad es mi amigo

G

el que dijo eso a lo que responderé:
"You already love him G so shut the fuck up!"
Ahora bien, sé que hablo mucho

[MUCHO]

de

Alex Turner

pero cómo no hacerlo? Es tan perfecto que da asco, en serio! Cabe aclarar que mi querido amigo

G

no tiene razón, a pesar de que Alex sea como la cima del monte para

moi

debo admitir que

NO

es mi músico preferido y los

Arctic Monkeys

tampoco son mi banda favorita, la realidad es que ésta es mi banda preferida:
Oh, Keane♥
Thomas Oliver Chaplin, Timothy James Rice-Oxley y Richard David Hughes + Jesse Quin forman la banda que más amo en la faz de la Tierra. Los he visto sólo una vez en vivo pero poseo todos sus discos, todos sus DVD's e incluso una copia de la edición especial del Perfect Symmetry autografiada...

aww.
Después de esos tres

[cuatro]

morros le siguen estos dos: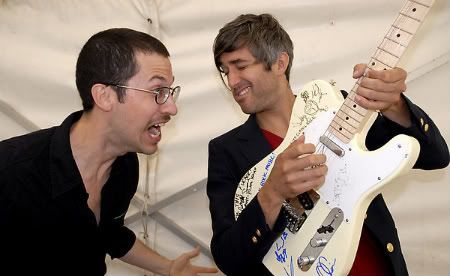 We Are Scientists *0*

; Keith Austin Murray y Christopher Ian Cain. Me gustan tanto que soy co-fundadora del

W.A.S. Cheer.Team MX

, lo pueden checar dando click
aquí
, también
aquí
o checando los banners que están a la derecha de su pantalla (:
Luego viene una banda 100% mexicana...
...

Zoé

, todo@s los conocen hoy en día pero yo los conozco desde aquellos años donde no eran muy comunes u.u; aquí ya entran

The Last Shadow Puppets

y

Arctic Monkeys

...o entran más antes? No lo sé, el punto es que Alex no es mi músico favorito y que a G le quede claro.
"

Alex isn't my favourite musician you dumb!

Now go and buy me breakfast."
Si alguien quiere enviar comentarios, reclamaciones, tarjetas de felicitación, regalos virtuales o algún divague sólo escriba un mail a

rita.slapsticker@gmail.com

, yo responderé y hasta les haré mención especial en LeBlog.
I ♥ you people!
Even you G.